Internationally Multi-Platinum Certified Producer/Songwriter And Elite Peak Performance Success Coach,
Founds World Wide Movement
In The Middle Of The
Pandemic for
"Global Unity"
The Mission:
The World is going through a crisis, BUT also bringing positive changes along with it.

We are all facing the same problems of being isolated or separated from the ones we care for. We have suffered Wildfires, Pandemics, Racial injustices, and Economic and Health Threats affecting our Nations Globally.

BUT, it also now gives us the chance to Unite, Stand Together, Work Together, and look past the Borders of Religion, Politics, Race, and Sexuality.Even temporal Peace seems to be possible in War Zones.

In the middle of the Pandemic Internationally Multi-Platinum Certified Producer/Songwriter And Elite Peak Performance Coach Geo Slam founded The "One World - Movement" - A World-Wide, Non-Profit Project to raise awareness for "Unity" all around the Globe.

Ordinary volunteering people, Adults and Children from so far over 45 Countries and 6 Continents across the Globe (North America, South America, Europe, Africa, Asia, Australia) from all Ethnical Cultures have recorded Video Shoutouts over Zoom or Smartphones praising and taking their stand for "Unity" and sent them to the "One World - Community." The videos are now being posted on One World's Social Media Channels.

These people are showing themselves taking action, getting together in spreading the message that it's time for "Unity" now more than ever. Making their Voices Heard, Contributing to Making A Global Change, and the number of participants in the One World Movement is constantly increasing.

The Song: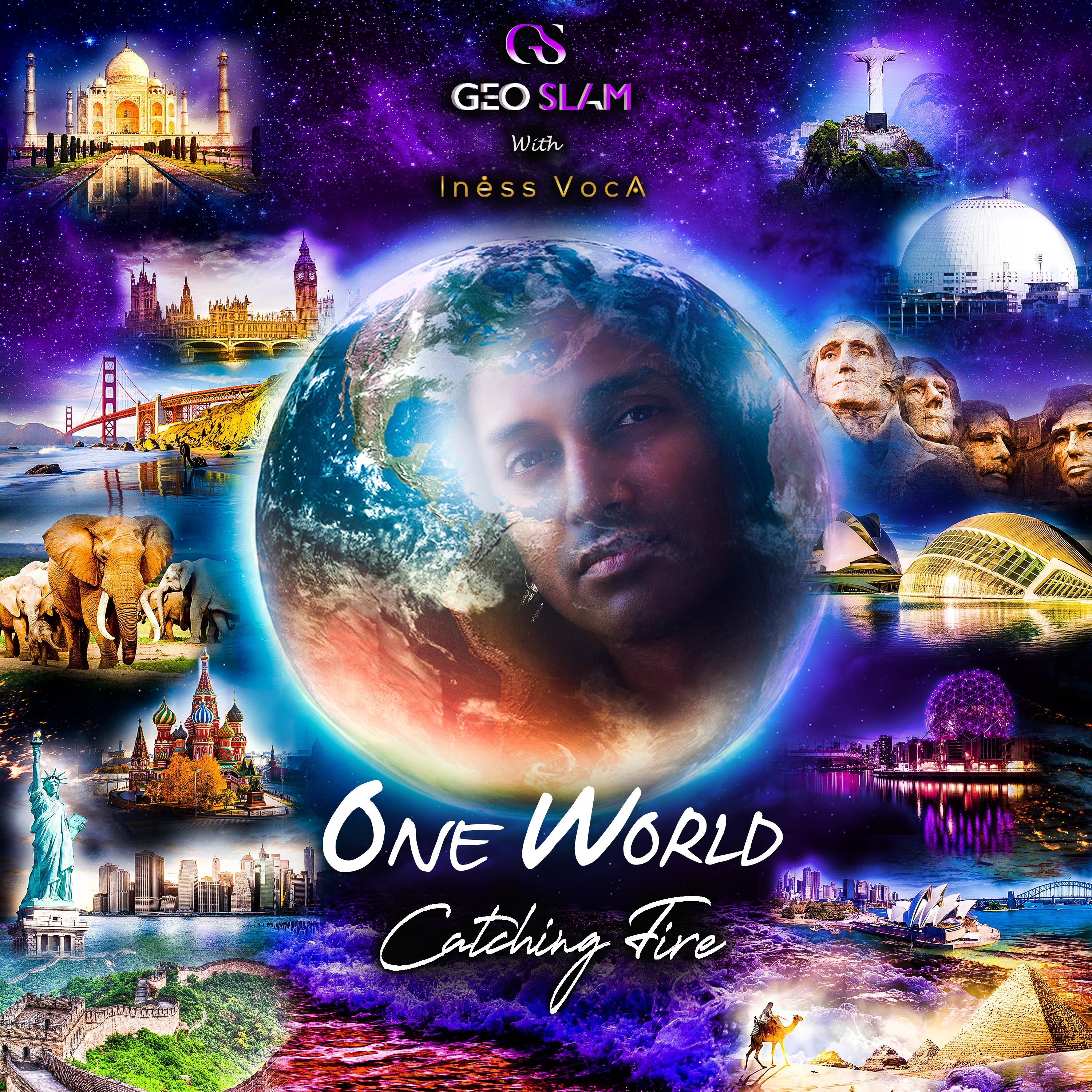 Text link
The Theme-Song "One World - Catching Fire," now released Worldwide, is Exclusively written By Geo Slam
for the "One World - Community Movement."

Listen To The Theme-Song "One World – Catching Fire" here:
Spotify
Apple Music
Deezer
It serves the purpose of raising awareness for all groups of people
and has only one goal: "Unity"

The Song is in the majority recorded remotely over the Internet with Zoom or Facetime.
The Choir used as backup singers are made up of children and ordinary volunteering people from all over the World who show their support for the "Cause" and contribute to Making A Change!
Voice Messages are directly recorded by the participants into smartphones where they were chanting "One world," made up the background choir in the Song's chorus when blended together.
Live Recordings from Wild Animals in Tanzania were used to create a more World-Music-Atmosphere, AND
Geo Slam himself sampled his own Heartbeats to be used in the Breakdown Section of the Song as a Rhythm-Beat.

As Lead Vocalist for the Song, the German Singer Iness Voca was handpicked by Geo Slam. Iness Voca is one of the fastest uprising Organic Artists in Germany. With her Heart and Soul committed to make the World a better place and being personally involved in numerous Charity Projects made her the first and only choice for the well renowned Internationally Multi-Platinum Certified Producer.Iness Voca stands for "Global Unity" and is a living example of what this project is all about, says Geo Slam.

THE CHALLENGE:
One World: Movement is Collaborating with a large number of Social Media Influencers, Companies, Organisations across the Globe and have many continuously ongoing Social Activities such as TikTok Challenges, Dj-Remix Contests, Social Media Challenges, and Contests, etc.

Geo Slam wants to challenge everyone, everywhere, to take a stand and do something every day for others.
"Unity starts from within all of us, and by taking action and do good
for each other daily, we make it a reality"
/ Geo Slam

Follow The Rise of the "One World - Catching Fire - Movement" on:



Facebook
Instagram
Twitter
YouTube

For More Info Please Contact:
Att: Linda Stewart
Email: [email protected]


If you want to contribute or Participate in the One World Movement,
Send your Shoutout-Video to the email address above.


You can see examples of Shout Out-Videos here:



YouTube

Listen To The Theme-Song "One World – Catching Fire" here:

Spotify
Apple Music
Deezer

Footnote:

Geo Slam has contributed on an array of recognisable Songs to Popular Culture with many of the World's Best-Selling Recording Artists such as One Direction, Enrique Iglesias, Jason Derulo, Backstreet Boys, Blue, LP, Dimitri Vegas & Like Mike, Kelis, Taio Cruz, Deadmau5, Priyanka Chopra, Europe, etc and has been involved with the Production of various popular Albums & Singles that cumulatively have
sold over 50 Million Copies World-Wide.

Besides his career in Music, Geo Slam is a Certified Professional NLP & Timeline Coach. He is certified by The Association For Professional Coaching in association with the European community for NLP and the International NLP Federation - Specialized in Emotional Mastery, Elite Peak Performance, and Success Coaching for Music Artists, Influencers, Entrepreneurs, and Thought-Leaders Globally.
He is a highly sought after motivational speaker and has been lecturing and giving motivational speeches to thousands of people for Schools, Organisations and Companies in all over Europe and in the United States and has been seen on FOX, NBC, CBS , USA Today.